The 2017-2018 NBA season is upon us. Tonight the new Boston Celtics play in Cleveland against the new Cavaliers, followed up by a game where each team will score at least 150 points, the Houston Rockets against the Golden State Warriors. The NBA put together a drama-filled (even if they didn't mean to), star-studded NBA opening night and it should be fun. Let's preview some storylines for the teams involved tonight and other NBA stories to watch for throughout the season.
At What Point of the Season does LeBron Almost Rip Kyrie's Head Off and Chalk it up to "Fierce Competition"?
Kyrie decided he didn't want to play on a team that went to the NBA Finals 3 years in a row…"Why" you might ask? Most likely because being around LeBron James all year long is excruciating (I don't know, I mean that's why if you're asking me). Sure, LeBron is the best player in the NBA, but how long can you see him walking around with the Godfather book with the bookmark in the same exact spot until you call bullshit and demand a trade.
Will Chris Paul in Houston with Harden and D'Antoni Work?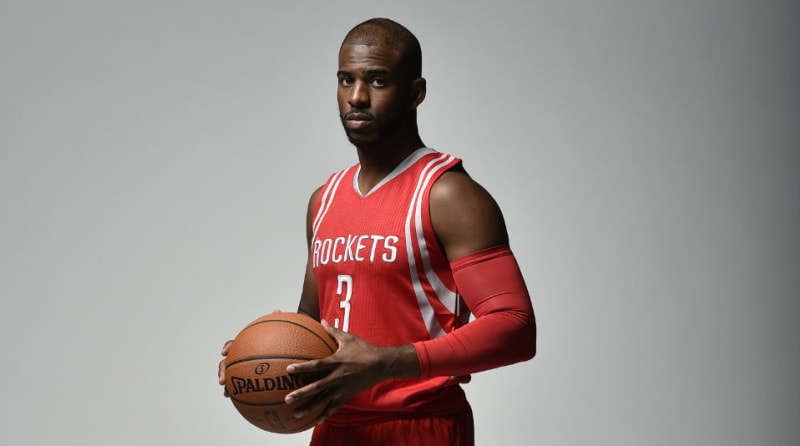 Houston made a big move and traded what seemed like their whole team, for All-Star point guard Chris Paul. The move is interesting, given that in Mike D'Antoni's first year as head coach of the Rockets, he moved James Harden from his traditional position of shooting guard to point guard (the move propelled the Rockets to 3rd in the West and gave D'Antoni the Coach of the Year award). The CP3 trade results in two All-NBA point guards on one team. Even more of a possible problem, is that Chris Paul really likes to slow up the game, while D'Antoni runs his players into the ground. Either way, having Chris Paul and James Harden is a good problem to have, which means the Rockets will probably be 3rd or even 2nd in the West this year.
More New Faces, New Places
This NBA offseason had more stars changing teams than usual. Kyrie went to the Celtics a couple months after Gordon Hayward signed with them. Paul George was traded to the Thunder and was later joined by Carmelo in another trade. As said above, Chris Paul was traded to the Rockets and for an honorable mention, Jimmy Butler was traded to the Timberwolves. The Thunder and the Timberwolves make the Western Conference even more interesting than it already was. The Thunder were a respectable 6th seed last year, but the additions of PG and Melo make you wonder if they could possible threaten to hop over the Rockets and/or the Spurs in seeding.
The Timberwolves added Jimmy Buckets to their main core of Karl Anthony-Towns (a very possible MVP candidate this year) and Andrew Wiggins. The T'Wolves were a lowly 31-51 last season and ended the season with the 13th seed. With the Grizzlies probably missing the playoffs this year after getting the 7th seed last year, will the T'Wolves jump 5+ spots and sneak into the playoffs?
Some Other Quick Thoughts
Will Lonzo Ball live up to the hype? Will Lavar Ball get into a screaming match with an opposing player every single night?
Everyone seems to think Giannis Antelopeasaurus will definitely win an MVP award at some point in his career, will it be this year?
Pelicans still sucked last year after they got Boogie Cousins to play alongside old teammate, Anthony Davis. Will they stay the same and possibly trade Boogie, or will they improve?
Man, Bulls are going to suck.
Man, Knicks are going to suck.
Man, everyone in the Eastern Conference aside from Cavs and Celtics are going to suck.
Can #TrustTheProcess get the 76ers into the playoffs? Anything is possible, as I said, the Eastern Conference blows.
And finally, is there anyway that it's not the Warriors and Cavs in the finals again? I'll let my friend Charles Barkley answer that question.*
*It's a resounding "no".
Quick Season Predictions so You Guys Can Look Back and See How Smart I Am
NBA MVP: (Sadly) LeBron James
NBA Coach of the Year: Brad Stevens
NBA Rookie of the Year: Lonzo Ball
NBA Defensive Player of the Year: Rudy Gobert
NBA Sixth Man of the Year: Lou Williams
NBA Most Improved Player: Brandon Ingram (some Lakers bias in here, for sure)
NBA Western Conference Finals: Warriors vs. Spurs
NBA Eastern Conference Finals: Cavs vs. Celtics
NBA Finals Matchup: Warriors vs. Cavs
NBA Champion: Warriors
NBA Finals MVP: Stephen Curry
LETS TIP THAT MF BALL OFF, FOLKS.